Roof Replacement Specialists
At JR roofing Lancs Limited, we specialise in slate and tile residential roof replacements. Our team of accredited and award-winning roofers are committed to providing exceptional workmanship and high levels of service.
Whether you need a complete roof replacement or a repair, we are here to ensure your roofing needs are met with professionalism and expertise.
Pitched Roofing Solutions
Do You Require A Roof Replacement in Blackpool?
Sometimes leaks cannot be solved by simple roof repairs and money can be wasted on temporary solutions. There are telltale signs that your roof condition may be beyond repair and your roof is reaching the end of its life. 
JR roofing Lancs Limited will provide a free roof survey to determine the condition of your roof. Our expert team are on hand to offer honest, professional advice on the best solution for your roofing needs. We provide different re-roof options for all budgets on both commercial and domestic premises.
If you are replacing more than 50% of your roof, then you need to contact building control or use JR roofing Lancs Limited.
NFRC CPS Registered Contractor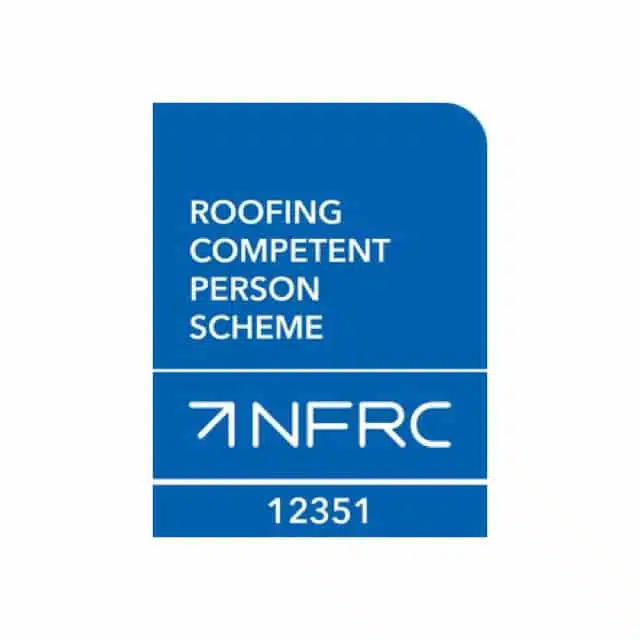 JR roofing Lancs Limited is a registered roofing contractor of the NFRC Competent Person Scheme (formerly known as Competent Roofer). 
We can self-certify that our job meets current building regulations. This means you won't have to contact the council or pay fees to apply for building regulations or inspections. We will notify building control on your behalf. 
We update building control with your details and notify them when we are due to start and again once we have completed it. On completion of your new roof, you will receive a Building Regulations Compliance Certificate along with our company guarantee and an Insurance Backed Guarantee.
At JR roofing Lancs Limited, quality is everything. You can count on our roofing experts for professional advice and guidance on all aspects of your new roof. Whether you require information on the party wall, fire break, or insulation, our team will be able to answer any of your roofing questions.
Our skilled team specialises in slating and tiling, we offer a wide selection of slate and tile options to suit different roof pitches and profiles. All our materials are sourced from local roofing suppliers and stamped with British Standard approval. When replacing your roof, our team will work to building regulations and manufacturer specifications to ensure your new roof will reach maximum longevity.
Re-Roof: A complete system
Our specialist team understands that there is more to a re-roof than new felt and tiles. At JR roofing Lancs Limited, we offer a complete roof replacement system including chimneys, ridges, and insulation.
As not all roofs are the same, we can provide services to meet all your bespoke requirements. Our team will work with you to provide the best roofing solution for your home. 
The insulation in your roof space will be upgraded to ensure that it meets current building regulations.
High-quality felt and treated battens is installed to ensure maximum longevity for your new roof.
Our team will fix each individual slate or tile adhering to manufacturer specifications.
All ridges are mechanically fixed in accordance with British Standards BS5534.
Whether your chimney requires restoration, rendering or removal, our team will find the best solution.
If required, our Blackpool roofing team will install a dry verge system on your new tiled roof.
We are often asked to replace the fascia, soffit and guttering at the same time as completing the roof.
Our roofers can install new skylights or replace existing Velux windows and flashing kits.
Do you have an adjoining neighbour?
Are you planning an exciting roofing project for your home, but the thought of navigating the Party Wall Act and dealing with your neighbors' concerns is giving you a headache? We understand that tackling the Party Wall Act can be a daunting task.  Our professional roofing team are here to provide you with expert guidance and support every step of the way.
At JR roofing Lancs Limited, we're committed to making your roofing project as stress-free as possible. With our guidance, you can embark on your project with confidence, knowing that you're fully informed and equipped to handle any party wall-related challenges that may arise.
At JR roofing Lancs Limited we pride ourselves on our 5* service and excellent workmanship. We provide the highest quality of work completed by highly trained, specialist roofers.
We are always on hand to offer the most honest advice and roofing solutions to suit all of our customers' needs and budgets.
"Would definitely recommend JR Roofing. We had a leaking flat garage roof that needed completely replacing with fibreglass before the weather turned bad. They booked us in for as soon as possible, covered the roof in the meantime, arrived earlier than planned and completed the whole thing in one day 👍 Thanks so much for your help 🙂"
"We were highly delighted with the work that JR roofing did for us. They are an extremely professional company with high work ethics and deliver excellent customer service. Each member of the team was a joy to have on our premises; friendly, courteous, polite, and trustworthy. In addition, we noted that the training and supervision that was being undertaken during the job was first class in every way. A rarity these days."
"My new roof was completed last week by this excellent team. They worked through the bad weather with great spirit. Every member of the team were polite and considerate. I was kept informed each day of progress by Josh. My roof is excellent all finished to a high standard. Well done J R. Roofing. 👏👏"
"Very professional, quick and polite! Very Reasonable prices! Highly recommend!"
Concrete Tile Roof Replacement
Why Choose concrete tile for your new roof?
Concrete tiles are a very popular choice of roof covering for customers looking for a cost-effective option for their roof. They offer durability, affordability, and a range of design options for residential roofs. 
Our team at JR roofing Lancs Limited are highly skilled and trained in concrete tile roof replacements. We can provide a solution for your roof that meets your needs and budget.
Affordability

They are generally more affordable compared to clay or slate options, making them a cost-effective choice for homeowners.

Durable

Concrete tiles are known for their strength and longevity. They can withstand extreme weather conditions such as high winds, hail, and fire.

Customise Your Roof

Available in a wide range of colours, shapes, and styles. Concrete tiles allow homeowners to achieve bespoke looks for their roof.

Energy Efficient

Concrete tiles have excellent thermal properties, helping to keep homes cooler in hot climates and potentially reducing energy costs.

Low Maintenance

They are relatively low maintenance, requiring minimal upkeep over their lifespan.
Clay Tile Roof Replacement
Clay tile re roofs in Blackpool
Clay tiles are ideal for customers who prioritise aesthetic appeal and long-term investment. They provide an elegant appearance and exceptional durability making them a desirable choice for those looking for a traditional and upscale look.
Our qualified roofers are on hand to make your requirements a reality. We can provide samples of leading clay tiles so you make the right choice for your roof. Choose from a selection of colours including red, moss red, brown, black, and slate-effect clay tile.
Aesthetically Pleasing

Clay tiles offer a timeless and elegant appearance, enhancing the curb appeal and overall aesthetic value of a home.

Longevity

Known for their exceptional durability and they can last for several decades, outlasting other roofing coverings such as concrete tile.

Fire Resistant

They are non-combustible and provide excellent fire protection for homes, making them a safer option.

Insulation

Clay tiles have natural insulating properties, helping to regulate temperature and improve energy efficiency in your home.

Low Maintenance

Similar to concrete tiles, clay tiles require minimal maintenance, providing homeowners with peace of mind.
Replace your Slate Roof in Blackpool
If you value luxury and longevity, a new slate roof would be your preferred option. Although slate is a more expensive roof covering, it offers unmatched beauty and exceptional lifespan. 
Our expert team can install a variety of slate including new and reclaimed, Welsh slate, and Spanish slate. 
For an even more bespoke roof, you can choose to add ornate slate detailing. Our team is skilled in a variety of detailing and patterns to really make your new roof stand out.
Elegance

Slate roofing offers a sophisticated and upscale appearance to any home's exterior. If you are looking to add a touch of luxury, then look no further than a slate roof installed by JR roofing Lancs Limited.

Longevity

Renowned for its exceptional durability and longevity, slate has a lifespan that can exceed a century.

Low Water Absorption

It has a low water absorption rate, making it highly resistant to damage caused by freeze-thaw cycles, reducing the risk of leaks and maximising the life of your new roof.

Sustainable Option

As slate is a natural stone, it makes for an environmentally friendly choice for homeowners concerned about sustainability.

Bespoke Roof

Available in a range of colours and textures, allowing homeowners to create a unique and personalised roof design.
Do you need advice on a roofing issue?
If you are ever unsure about something that you have been informed by a roofer in Blackpool, please get in touch. Our specialist team are always on hand to offer our honest, professional advice.