Conservatory Roof Conversions
Conservatory Replacement Specialists in Blackpool
If you are searching for conservatory roof conversions in Blackpool then look no further. At JR roofing Lancs Limited, our award-winning roofers are committed to providing quality workmanship and customer satisfaction.
Do you want to find out the many benefits of replacing your conservatory roof? Would you like more information on energy-efficient conservatory roofs or insulation options? We are here to offer expert advice and guidance.
Benefits of replacing your Conservatory Roof
Conservatory Roof Options
Customise Your Conservatory
When choosing to replace a conservatory roof, there are many possible roof options that could seem overwhelming. But not to worry, JR Roofing Lancs Limited will go through every stage of the process with you to ensure that your bespoke roof conversion meets all your requirements.
There are different solid conservatory roof profiles available when converting your conservatory roof. Our expert roofers in Blackpool will offer their honest advice to help you find the best solution.
Conservatory Conversions: Start To Finish
We offer a comprehensive conservatory roof replacement system, including optional extras and roof insulation.
Since not all conservatory roofs are the same, we can provide services to meet all of your bespoke requirements. Our roofing team will collaborate with you to transform your conservatory into a usable room all year round. 
Choose from a selection of lightweight conservatory roof covering including Metrotile, Tapco Slate, Guardian, and Fiberglass GRP. Design the perfect extension to your home with tiles available in a variety of colours and profiles. 
Low roof pitch tiles are available if you have limited room above your conservatory, maintaining a harmonious look that matches the rest of your home's exterior.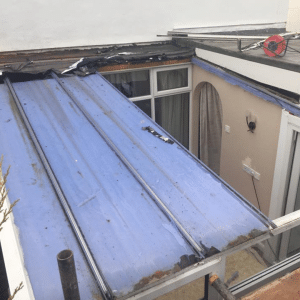 The first step in the process is to remove the old polycarbonate conservatory roof.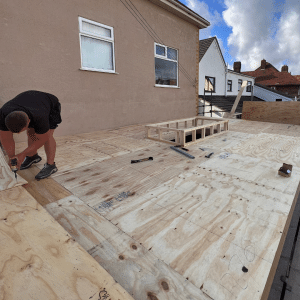 Our specialist roofing team will install a new timber structure for the lightweight conservatory roof system.
Your existing roof insulation is upgraded to ensure that the correct u-values are achieved.
The plastered internal finish will complete your new conservatory and all-year-round usable room.  
Transform your conservatory into an orangery by adding a roof lantern. Choose your made-to-order lantern size, colour, and self-cleaning glass.
Conservatory conversions are given the option of spotlights or wall lights with many more internal finishes available on request.
Add fascia, soffit, and guttering to your conservatory roofline and complete the upgrade and renovation of your home.
Velux windows allow you to manage the amount of light you let into your room and come in a variety of sizes to suit all conservatory roofs.
At JR roofing Lancs Limited, we pride ourselves on our 5* service and excellent workmanship. We provide the highest quality of work completed by highly qualified, specialist roofers.
Our team is always on hand to offer the most honest advice and roofing solutions to suit all of our customers' needs and budgets.
"Would definitely recommend JR Roofing. We had a leaking flat garage roof that needed completely replacing with fibreglass before the weather turned bad. They booked us in for as soon as possible, covered the roof in the meantime, arrived earlier than planned and completed the whole thing in one day 👍 Thanks so much for your help 🙂"
"We were highly delighted with the work that JR roofing did for us. They are an extremely professional company with high work ethics and deliver excellent customer service. Each member of the team was a joy to have on our premises; friendly, courteous, polite, and trustworthy. In addition, we noted that the training and supervision that was being undertaken during the job was first class in every way. A rarity these days."
"My new roof was completed last week by this excellent team. They worked through the bad weather with great spirit. Every member of the team were polite and considerate. I was kept informed each day of progress by Josh. My roof is excellent all finished to a high standard. Well done J R. Roofing. 👏👏"
"Very professional, quick and polite! Very Reasonable prices! Highly recommend!"
Why Choose JR Roofing To Replace Your Conservatory Roof?
JR roofing Lancs Limited are highly trained in conservatory roof conversions and our specialist team has the ability to convert any conservatory, of any shape or size. We offer our customers many conservatory roof options including roof insulation, installations of skylights, spotlights, and glass roof lanterns.
We are always on hand to offer our honest advice. Contact our roofing experts to replace a conservatory roof in Blackpool.